BEFORE/AFTER SCHOOL PROGRAM
Whether you need child care…or have a child who you want in better shape…or an active child already in sports 2-3 days per week and you'd like them to remain active outside the world of sports: Play.Fit.Fun's Kids Action Classes are for you.
PLAY.FIT.FUN's After School program begins immediately after school in the school gym. You can pick up your child at any time. They are welcome to stay the entire time…but if you want to pick them up earlier at a certain time…No Problem!
PLAY.FIT.FUN's kids action curriculum is essentially the best parts of PE & Field Day mixed together, then blended with Team Building!  IT'S A BLAST!
Our motto is PLAY = POWER!  Activity…Agility…Fun Interactive Games: Your child will have the opportunity to have fun, stay fit, get in better shape until it's time to go home!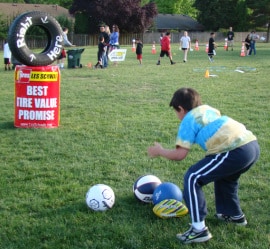 All the kids will know, is that they're having a great time. Between you and us however, within the PFF Active Play Curriculum…they will also experience tons of functional multi-faceted full body movement…plus hand eye coordination.
The Business Of Children is PLAY! They are built to move. Movement, Fitness & Fun improve a child's ability to focus & concentrate, increase positive attitude, improve self esteem…plus with PLAY.FIT.FUN, they will work together (team work and leadership) and increase their ability to work with others!
WHAT IS A HIGH 5?
Giving or asking for a High 5 is POWERFUL!

It shows you care…it shows someone you like them…it lets them know you want to hang out with them…it is encouraging…it tells them you think they are cool!

It makes people smile!  That aint bad!!
High 5!  It is a simple gesture…with SO MANY WONDERFUL BENEFITS!!!
YES! I AM INTERESTED IN LEARNING MORE