BEFORE/AFTER SCHOOL PROGRAM
Whether you need child care…or have a child who you want in better shape…or an active child already in sports 2-3 days per week and you'd like them to remain active outside the world of sports: Play.Fit.Fun's Kids Action Classes are for you.
PLAY.FIT.FUN's After School program begins immediately after school in the school gym. You can pick up your child at any time. They are welcome to stay the entire time…but if you want to pick them up earlier at a certain time…No Problem!
PLAY.FIT.FUN's kids action curriculum is essentially the best parts of PE & Field Day mixed together, then blended with Team Building!  IT'S A BLAST!
Our motto is PLAY = POWER!  Activity…Agility…Fun Interactive Games: Your child will have the opportunity to have fun, stay fit, get in better shape until it's time to go home!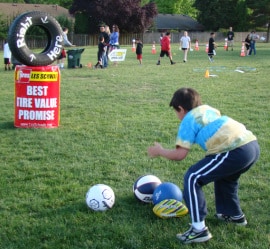 All the kids will know, is that they're having a great time. Between you and us however, within the PFF Active Play Curriculum…they will also experience tons of functional multi-faceted full body movement…plus hand eye coordination.
The Business Of Children is PLAY! They are built to move. Movement, Fitness & Fun improve a child's ability to focus & concentrate, increase positive attitude, improve self esteem…plus with PLAY.FIT.FUN, they will work together (team work and leadership) and increase their ability to work with others!
WHAT IS A HIGH 5?
Giving or asking for a High 5 is POWERFUL!

It shows you care…it shows someone you like them…it lets them know you want to hang out with them…it is encouraging…it tells them you think they are cool!

It makes people smile!  That aint bad!!
High 5!  It is a simple gesture…with SO MANY WONDERFUL BENEFITS!!!
Had to totally hold back laughter recently when I was picking up Z.  Coach David was trying to herd little ones into the pic, he came to one little guy and asked where his water bottle was (David had just filled it and was currently holding it). The little one just pointed at David's hand. David (and the little guy) roared in laughter. It was such a "parent" moment. You all try so hard (and of course are challenged) but every once in awhile a silliness overcomes you. It was really so priceless!  You guys are doing great. They're so little and you're keeping them active and staying positive while doing it.  Great job!
Your program has given Adam the chance to interact with kids in a playful setting.  It has been a huge change during the last school year for him to be attending school on a full time basis and that has been a challenge for all.  He has made great strides in catching up at school but also in physical and social activities which your program has provided.  Adam looks forward to staying after school on Tuesdays for the Play Fit Fun program every week.  Thanks for giving him this opportunity!!!
We love Play Fit Fun!  Lindsie at MITCH Charter has been MORE than welcoming and including for not only my son but also for me as well!  Mason has come home from PFF teaching us new games and just this morning he taught me "high knees" on our way out the door.  I love how active and positive PFF is for our son and how it not only encourages him teamwork but also self help as well.  No doubt in my mind we will sign Mason up next year as well.  But, we also hope to have him do a summer camp with PFF.  Thank you PFF and Lindsie!
My daughter looks forward to play fit fun each week. It's helped her learn a variety of different sport activities and kept her moving and active in the winter months. This is a fantastic program, the children have so much fun!  Thank you so much Spencer!
Play Fit Fun is such a great program for kids. It teaches kids how exercising can be fun. My daughter has ADHD and can be hard to handle from time to time. She needs physical activity, but I have such a hard time getting her to be involved in any organized sports in the past. With Play Fit Fun, my daughter has learned how to enjoy being active, without the intimidation of an organized sport. Coach Lindsie is such a great coach; she keeps the kids active, excited and engaged. My daughter comes home exhausted and in a good mood on PFF days. I am looking forward to a summer session of PFF to keep her active.
My son always comes home after PFF happy, exhausted and smiling. One of the things we love about the program is that kids of all ages mix together, so as a new student in his school, my son was able to quickly meet lots of kids of every age. The Halloween games were a particular favorite of his! We also appreciate the summaries of the day's games and occasional feedback on our son.
My daughter absolutely loves Play, Fit, Fun! "It's so much fun!" are the first words she says when we pick her up. I love how the activities keep her active and in a good mood. Thank you for all you guys do!
My son has been enjoying the PFF experience for two years now, both after school and day camps. He loves the activities as well as the strategy games. For kids who are shy or don't think they are "physical" enough to come to PFF. Spencer and his team will teach you things you never knew you could do! From the PFF teachers to the highschool kids who have been such wonderful influences, everyone looks like they are in full enjoyment mode. For me as a parent, it's peace of mind.  I encourage you to visit Play, Fit, Fun - it's infectious!
hen I ask Liam and Clay what they think about when they hear Play Fit Fun here is what they said: Liam: I think about the friends I meet. Clay: I think about free time. They get excited for Tuesdays and they LOVE PFF camp. Interaction with older kids is their number one favorite thing. It's wonderful that they have great role models through the program. They learn how to work together with other kids, stay active, and have fun. I really appreciate Coach Spencer's approach to handling "problems" that the boys run into. What will I do in June? 😉
Kylee has been in Play Fit Fun since she was in kindergarten and she is now in 4th grade.  It is the only after school activity that she never has wanted to quit.    She is always happy on Monday's as she has Play  Fit Fun after school.  Kylee is a very active child and loves all of the games and teamwork.  Play Fit Fun is great for her physically, mentally, and socially.  Spencer (the coach) is great with the children.      He is very kind with the children and talks things out with them to help them learn social skills and how to be physical with games.
Our daughter was reluctant to sign up at first, but we wanted to help her develop a love of fitness and social exercise.  She tried out one class and loved it because the coaches, the activities, and the other students make it a ton of fun.  Over the year, this has balanced out her weekday activities with her gymnastics, dance, and swim lessons.  She's also much more patient and fair when playing game with her little brother, and she likes to make games up with her friends. I really appreciate what the program does and the way the coaches send photos and explain what games were played each week.
My kindergartner bounces out of bed when it's a PFF morning!  He loves being active and playing with his friends there.  Coach Spencer is super organized and reliable, and provides a weekly update complete with photos of the kids in action.  We'll definitely be signing up again!
Play Fit Fun is an excellent after school program for kids!  The program keeps the kids moving while providing great fun and competition.  The program is well run using coaches and high school "assistant" coaches.  Feedback is provided by staff, weekly outlining what the kids did and pictures of the class in action.  I love seeing and reading about this.  Kids don't have to be bussed to the program since it is held at their home school gym.  Our daughter has attended both the after school program and the camps during non- school days since first grade. She is leaving elementary school for middle school and still wants to attend camps and later become an assistant coach in high school.
My daughter looks forward to play fit fun every week!  I am so happy we found the program at our school.  It's been a great outlet for her. She is always so excited to tell me about all of the fun activities she participated in. The coaches are friendly and knowledgeable. I would highly recommend Play Fit Fun!
It's been incredibly special to have had your consistent positive voice in her life for 6 years!! I'm grateful for your investment in Abby.  She's always been a special kid with a great brain...but you helped teach her to use that brain to push herself and see what she can do.  I think her willingness to try new things (like auditioning, etc) is directly connected to her discovering what can happen when you don't quit.  I believe she is more resilient and brave because of you.
I have been so impressed with this program.  We loved that she's working alongside kids that are both younger and older than her. I believe this is invaluable to a "community" of learners! Lastly, I always got to see what was going on in classes because of the weekly emails (which describe the what and the why of the activities) and the videos attached. It was so FUN to watch her and the others competing and collaborating. I would watch the videos with a big smile. She needed and wanted all this movement and engagement. So happy PFF is available to kids and that there's something else to get her moving that's not sports related. Everything has been well-communicated, well-organized and wonderful for my daughter and myself. She looked forward to every week's class! We look forward to joining again next year!! Amarylis Fernandez Hazel has loved being a part of the PFF community these past 5 years and I've enjoyed seeing photos, watching the videos and hearing about her games and activities in class. Any group activity like this is great for building confidence in her abilities and learning about healthy competition and grace when not winning. Thanks for her time with your group! I know she's bittersweet about the end of her time at Bethany and with this group.
My daughter has grown in many ways and certainly enjoyed her time in the last few years attending PlayFitFun. I'm really happy the program helped her be a leader and improve her social skills because she was quiet and reserved. It has helped her experience with fitness be a positive one, she has fun while exercising. Kaylin is always happy when I pick her up to tell me how her class went and what new game she learned. Overall, the program certainly accomplished its goal to improve fitness level, build self esteem, teamwork, focus confidence and leadership. Thank you for a great program and year!
Play Fit Fun has been an incredible after school club opportunity for the students and families of Bethany Elementary. Spencer and his team put together highly engaging, motivating, and fun activities for students each week. The team he has developed is passionate, responsive, professional, and works beautifully with students of all ages. I have participated with the club on numerous occasions and never been disappointed. Their focus on teamwork, sportsmanship, and developing a love of movement is at the heart of their work. It is an honor to have them in our building! Thank you,
Principal: Bethany Elementary School
I am in the unique situation of being both a Play Fit Fun parent, and administrator, having them at our school. Play Fit Fun has been in our building for over 5 years. During that time, I witnessed students highly engaged in a well-thought out afterschool enrichment program that provides students with the opportunity to work on team building skills, relationships, collaboration…all while getting a workout. Students are excited when PFF Thursday takes place. As a parent, both of my children have attended PFF and over the years, it has become an extension of our family. Our kids were always happy and excited when it was a PFF day and tired when they came home. I am pleased with Spencer and his team as he has helped our boys become the great citizens they are today.
Former Principal Ladd Acres Elementary School
We have had PlayFitFun at Raleigh Hills the past few years and it is a well attended, inviting program for our students. The staff has been reliable and consistently excellent. It offers our students an after school opportunity to move, develop social skills, and play actively.
Principal, Raleigh Hills K-8 Beaverton School District
Play Fit Fun is one of my favorite afterschool programs! Spencer runs an outstanding program where all of the students feel valued and have a fun time playing the best team-building games. Spencer communicates well with parents via a personalized newsletter complete with photos from the fun after each class. He supervises the students well before, during, and after the program through the parent pick-up. He is friendly and passionate about helping kids have fun while being active!
Vice Principal Valley Catholic
We've enjoyed PPF at Montclair for the past 5 years, and we especially enjoy having the program scheduled before school starts. The students that participate in PPF are more engaged when they enter the classroom in the morning, their more responsible, as they understand the value of getting up early to engage their mind and body in physical activity, and they've built community with their fellow PPF peers. Spencer is motivational and supportive in instilling the values we teach at school: taking ownership of your learning; teamwork; having a growth mindset; and incorporating goals into your life. PPF has been a beneficial program at Montclair and we're fortunate to offer it to our students.
Montclair Elementary Beaverton School District
Play.Fit.Fun has been an excellent addition to our after school programs. Students look forward to going every week and have a blast participating in all the fun activities. Thank you.
Principal West Union Elementary School
Play.Fit.Fun's before school kids action program has worked great for many reasons at our school. Our families love the option of having an active activity for their kids to start the day with (and I'm sure it is a plus for our working parents as well....since their kids can come into the building and be safely monitored before school). We have very little conflicts in the mornings with the use of our gym (which isn't always the case in the afternoons)...and you are always in and out before we are staging kids for the start of the day. It has been a win/win for our families and for us to be able to provide more activity for our kids.
Principal's Secretary/Bonny Slope Elementary School
YES! I AM INTERESTED IN LEARNING MORE